I don't cook like Julia and I don't accessorize like Martha; however, I have always treasured family dinners. In the early days, the husband and I shared hamburgers from a tiny hibachi inches from our basement window (not too safe in retrospect). Later, mealtimes were valued because the kids were "still" when strapped in high chairs with food. Later, mealtimes where when, if I was lucky, they might talk about the good and bad "stuff" of their days. Now, when the "kids" make a visit, it is treasured time and I savor every word.
So when my daughter suggested coming "home" for a birthday bike ride and dinner, I picked up veggies at the farmer's market and eagerly strapped the bikes to the car! I was confident she was not expecting a lot of "hoopla" and would be happy chopping garlic and kale at her "party." It was an impromptu event without siblings, cousins or friends.
There were no shrimp cocktails and no lobster tails. There was neither cake nor ice cream. There were no blow up houses, no balloons and no games. It was far too cold to even eat on the porch!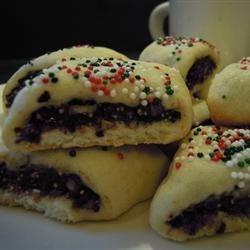 We arrived home after a lovely ride across the Hudson River and inhaled pesto, hummus, and veggie chips. We toasted the birthday girl with bubbly as she chopped garlic and peppers to be mixed with fresh kale. There was fresh flounder and swordfish simmering on the grill. We wrapped up the dinner with
fig cookies, mini pastries and micro-canolis. Her gifts included a "dress making form" from her BFF, a "garlic braid" from me (from last week's garlic festival) and a "dryer vent cleaning brush" from her dad!
This was a celebration as unique and special as the miracle I first "brought to the party" long ago, on a crisp fall afternoon.