I have thought about this OLW (one little word) focus for a few years now, but never committed to a word. Last year, I tried....but I did not commit to just OLW, at least not publicly in January. Partly, it was hard to commit to just one word when there were so many aspects of my life that seemed out of focus and seemed to need "words." In retrospect, I did hang on to the concept of focus quietly and in my heart for the first part of the year. I did need to focus on living in the moment rather than for the future or in the past. I also tried to have patience with myself and others. It was hard, but while not public, they were my own quiet, TLWs (two little words).
This year, like so many of you have said it might, my word came to me! It's a bit grandiose and unreachable, perhaps, but in reality this word embraces my own goal for dealing with life, as it will happen. In reality, the word found me when, (
in a moment of deeper than usual reflection after more than a week without using an alarm clock
), I wrote in a blog post, "
I've.....begun this New Year with JOY in my heart
."
Perhaps it was due to my well rested, overly fed, filled with happy memories condition, but the phrase kept popping into my head I began to wonder (
as I endured the treadmill
) if JOY could be something I embraced a little more fully all year through?
So, I did some 21st Century style research (
Google style
). I determined I was not the first person to choose joy. I found Lisa,
over at Little Blue Boo
, who certainly has a lot to say about the subject and who has chosen to embrace this same word in her own life. She also made this pretty wonderful graphic that helped secure my own word choice as she concludes,
happiness is not the same as joy!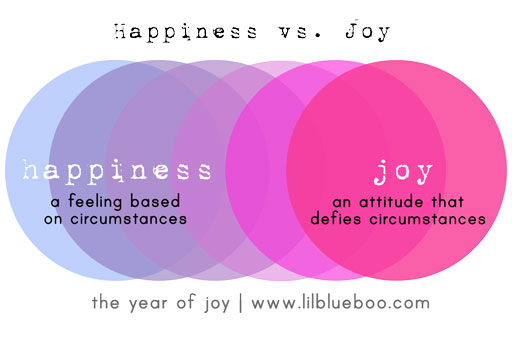 I found some amazing quotes worthy of Pinterest.
Indeed, I will not be happy at all times this year, but I will still try to embrace an attitude that defies the circumstances of life.
I will try to find joy in my care giving for my elderly aunt and frail mother, even on those nights when they are grumpy, frustrated or exasperated with the trials of aging. I will try to find joy even when I am tired, frustrated, or exasperated with the trials of aging.
I will try to find joy on my treadmill, even when my MP3 is not charged, my knees are achy, or my cholesterol level is going in the wrong direction.
I will try to find joy in what others do, even if the it's not the oatmeal I wanted, it's not the decision I would have made, or my friends act differently than I would have hoped!
I will try to find joy in my students, even when they don't progress as I hoped or forget, once again, to read.
I will try to do as Ralph Waldo Emerson implored, "scatter joy," by looking for the good in people, places and things. I will try to be a beacon of hope and light in the darkness this year. I'm not gonna promise that this will be easy and I will promise that I will certainly fall off the wagon, perhaps many, many times; however, this year, I choose to embrace and live with JOY, an attitude that defies the circumstances of my life.