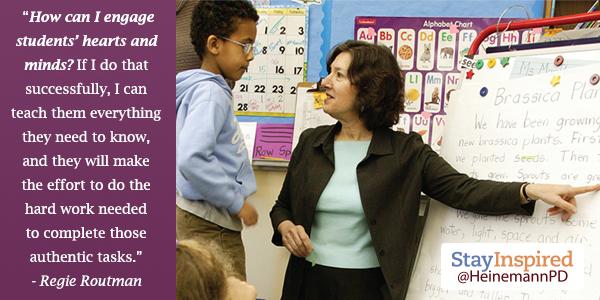 http://heinemann.com/PD/journal/Think%20Big_Routman.pdf?utm_campaign=Stay%20Inspired&utm_content=8687133&utm_medium=social&utm_source=twitter
Engaging their hearts and minds.
.... I was thinking of this as I finished
Beary's first blog
post! I was thinking of this as I walked by a classroom and the teacher was showing how a student's name followed part, but not all of the phonetic strategy she was teaching.
Sure, in this CCSS world it is hard to always justify any minutes of non-standard teaching/thinking' yet, there is and always will be the need to also engage their hearts and to embrace the part of teaching where we connect with our students and help them connect with real, purposeful, life-long learning.
Routman says we need to make our work AUTHENTIC.
She suggests we need to assure an "I can do it!" environment for our students and for out teachers !
She suggests we "embrace whole-part-whole teaching" by beginning with meaningful texts and then embed the explicit teaching of skills and strategies that students need to know in
meaningful contexts.
She says we should aim for learners who "self-monitor, self-evaluate, self-correct, and self-direct their own learning.
She's still a wise advocate for teaching and learning, even in this CCSS world in which we live :)